Insert Korean Characters That Say "Our Hero"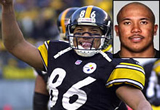 Hines Ward's celebrity in South Korea is reaching critical mass. He's
planning a trip to his native Seoul
in the Spring, starting a
bidding war
between two Korean airlines for the honor of flying he and his mother "home".
Moreover, Hines' fame is helping to
change Korean's long-held dislike for tattoos
, and forcing Koreans to
confront the rampant discrimination
that mixed-blood Koreans face. Is Hines Ward becoming Korea's Mohammed Ali?
Even with all that good stuff, I think the best part of Ward's Pan-Asian fame is that many Asian media outlets covered the Super Bowl, and the English translations of these recaps are filled with near-Shakespearean descriptive favorites, like this:
"Riding the athlete's wave of activity on the field, the Steelers were able to muster enough hustle to once again rise to the zenith of the sport, after 26 years of naught."
- Digital Chosunilbo
Yay for media not written for a third grade reading level!