Death Sentence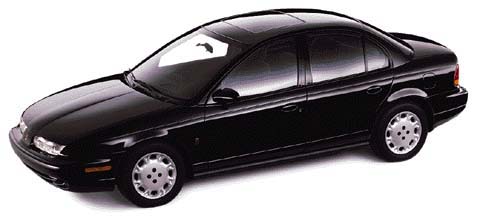 This morning, a Firestone Car Service employee politely refused to fix my car. "It's no use," he said, "it's just going to break again in a few weeks. I'm sorry."
In a way, the timing couldn't be better. I'll soon be able to walk to my new job from my new apartment, and I've been meaning to start riding my bike more. Still, there's an air of loss and sadness knowing my trusty Saturn is officially on it's last legs. As such, I thought I'd pay tribute with a couple of lists; some true, if not interesting facts about Me and My Saturn.
• Price Paid - $4900 (in 1999)
• Miles (Total) - 132,000
• Miles (Mine) - 76,000
• Number of Animals Who Have Called it Home- 2 (a spider named "Chaffy" who lived in my driver's side rear view mirror, and a centipede named "Neck Crawler" who lived behind the center console)
• Number of Cross-Pennsylvania trips with ex-girlfriend- 12
• Number of midnight jaunts to Chode, Michigan - 1
• Bumper Stickers - 2. ("Kerry/Edwards in 2004" and the
Human Rights Campaign logo
).
And a list of my favorite car songs throughout the years:
• "Priest's Knees" by Destroyer
This is the Official Song of Driving In the summer of 2006, Gnarles Barkley be damned. Will go down in history as the
last
official driving song in this car's illustrious history.
• "Woman's Realm" by Belle & Sebastian
This was the first Official Song of Driving in the Saturn way back in 1999.
• "Bring The Pain" by Method Man
"When you drink Absolut straight it burn enough to give my chest hairs a perm". I don't have chest hairs, but that line is great. Went Official when I found the CD in my room this winter.
• "The Bells Are Ringing" by They Might Be Giants
That song made me cry a lot. Official through the Home Depot Summer of 2000.
• "Victoria" by The Kinks
Went Official in the Spring of 2003, right before I decided to leave Pittsburgh.
• "Who Could Win A Rabbit" by the Animal Collective
Official for three full seasons, I could be seen cruising Clark Street, screaming like an ass along to this beautiful camp song, and through 800 listens, I still have no idea what it's about.
• Eminem's rap battles from "8 Mile"
Official for a span of a week and a half, when I reacted to "8 Mile" the way people in the 70's reacted to "Saturday Night Fever" (namely, I though I'd start freestyling).
• "Two Rights Make One Wrong" by Mogwai
This song put visions of the future into my head, all of which would come true. When I felt desperate, I'd put it one and try to conjure more visions, but it didn't happen. That's why I think I've peaked. Official from 2001 through 2005.